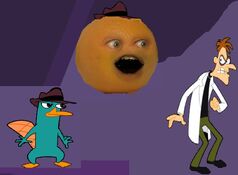 This is an upcoming episode of Annoying Orange. It is a sort of special episode

Annoying Orange wakes up to find he is not in the kitchen, pteranodon terrace or tokyo,... He's in a strange cartoon garden instead! He gets kicked into a secret lair, meets a pet platypus, goes to fight a strange german guy with said platypus who is a secret agent. Then, as if things can't get even worse, Pear wakes up to find that there is not ONE Orange in the kitchen, but two million! Oh, great.
Transcript Of Episode will Be Posted here soon.
Ad blocker interference detected!
Wikia is a free-to-use site that makes money from advertising. We have a modified experience for viewers using ad blockers

Wikia is not accessible if you've made further modifications. Remove the custom ad blocker rule(s) and the page will load as expected.