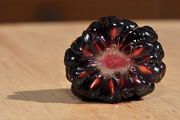 This episode is the 3rd viral vote. It has spoofs of "Wheres The Chapstick?" "The Fart Song" "The Scary Maze Game", "Double Rainbow" and "Angry German Kid".
Videos
Where's The Can-Opener? (starring Grapefruit.)
The Rot Song (starring Marshmallow and Midget Apple.)
The Scary Egg Game (starring Rasberry, as the unsuspecting fruit watching it.)
Double Cupboard (starring Orange.)
Angry Kitchen Pear (starring Pear Aquaduct, Cheez-It, Passion Fruit and Midget Apple.)
Ad blocker interference detected!
Wikia is a free-to-use site that makes money from advertising. We have a modified experience for viewers using ad blockers

Wikia is not accessible if you've made further modifications. Remove the custom ad blocker rule(s) and the page will load as expected.